Chef Suzanne Tracht's restaurant, Jar, has been in West Hollywood for 13 years, but I had not had the opportunity to go there until now. Sometimes, it takes something like DineLA to give that extra push to make the drive over the hill (since I live in the San Fernando Valley) through the dreaded Westside traffic to finally try a restaurant that has been on one's "LIST". I had attended Jonathan Gold's Bite Night last fall spotlighting his 101 Best List and Chef Suzanne was there with a rib dish that was sooooo good (that and an dish by Chef Govind Armstrong of Post and Beam and Willie Jean's were my favorites of that night), I should have known right then and there it would be a great meal. What surprised me, though, was how far it exceeded even my already high expectations. Since it has survived for 13 years, it probably isn't a surprise to most people, but I was still blown away by how much I loved the food. It was sooooo good. Let me say that again, IT WAS SOOOOOO GOOD.
For DineLA, diners had a starter, an entrée, and a dessert for $50 per person. There were two choices for each course and looking at the menu, it looked good but nothing fall down glorious. Boy, is THAT misleading! From the moment we walked in, the warm woods of the décor and soft lighting (ok, also setting up expectations here for my under-lighted photos) pull you in like a soft cashmere blanket. You just want to kick off your shoes, sip a drink, and listen to some jazz. The staff is friendly and accommodating. No snooty airs here—they love the food they serve and want you to have a good time tonight!
Starters: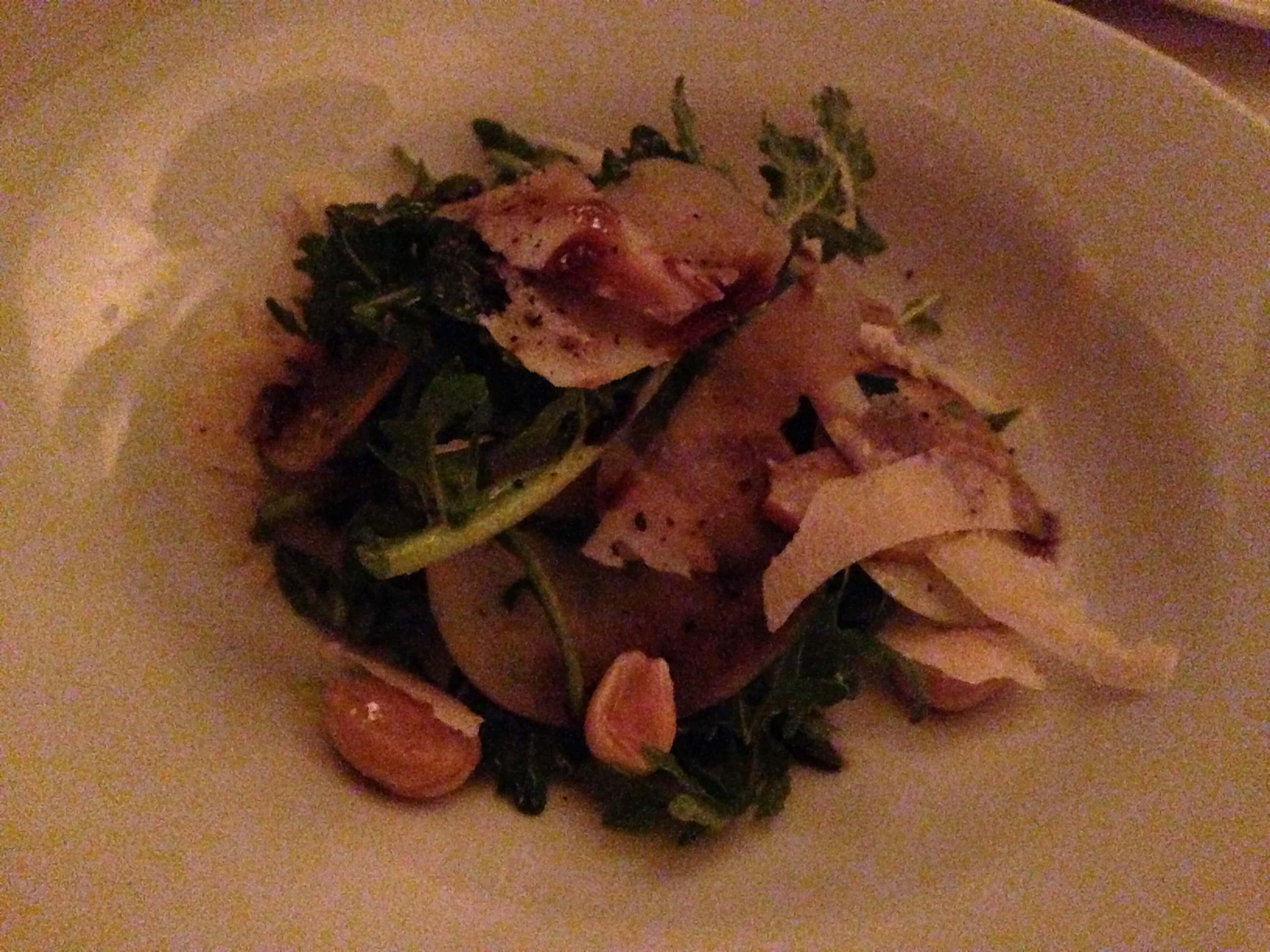 Apple Celery Salad (arugula, watercress, Marcona almonds, Reggiano). My husband ordered this and, although he enjoyed it, he felt it was the weakest dish of the night. I had one bite and I thought it was quite good but the one bite didn't compel me to steal the dish from him…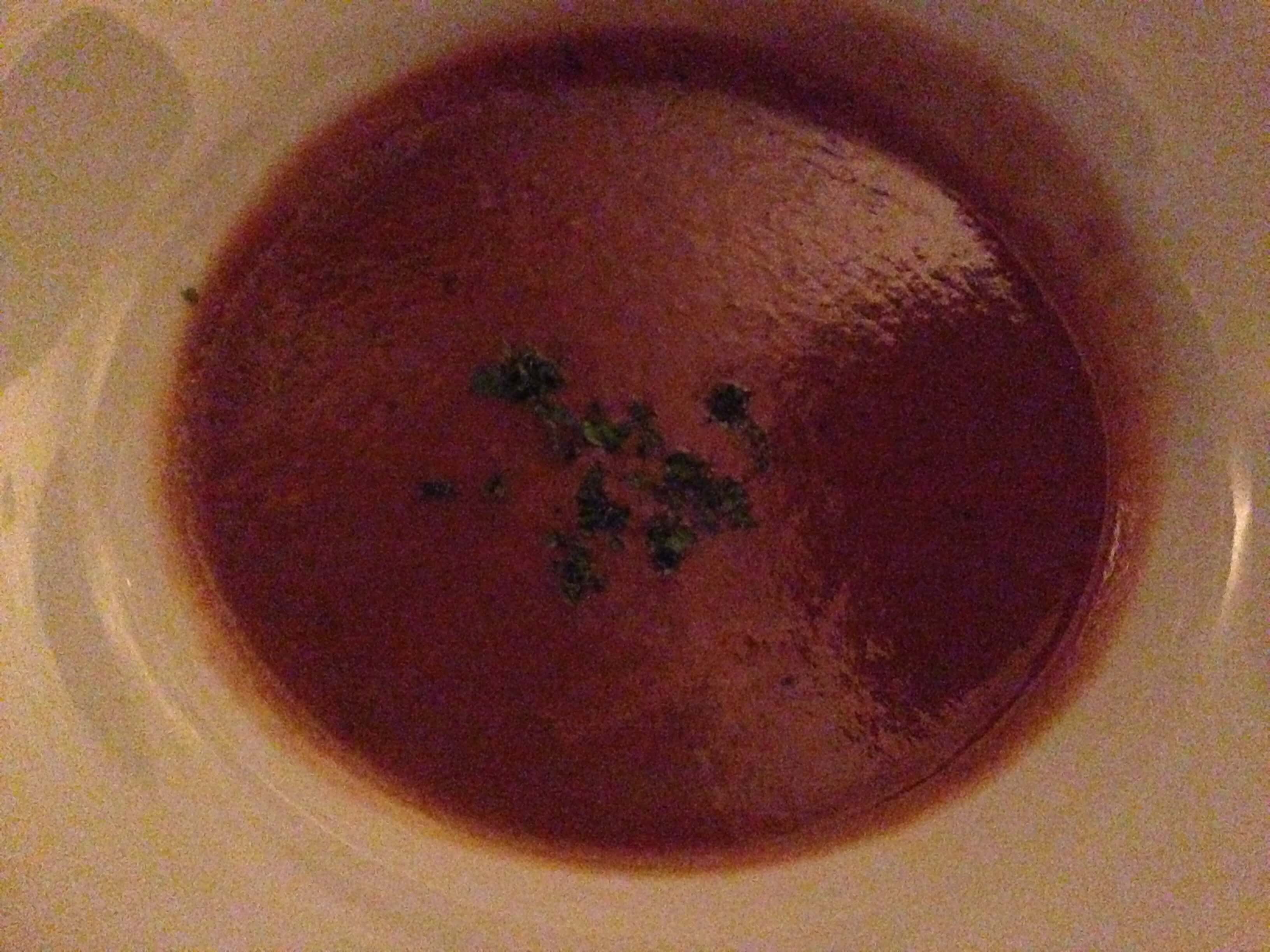 Chestnut Soup (pureed chestnuts and garbanzo beans). I ordered this dish because I had been fighting a cold for few days and really wanted something warm and soothing. I like chestnuts but don't particularly love beans (don't hate them, don't love them) so I really didn't have any particular expectations for this dish. It turned out to be the biggest surprise and the best dish of the night and that is actually saying a lot! The soup was simple, with the flavors of the chestnut and garbanzos clearly coming through. The texture was perfectly smooth and creamy but had a strong beefy tasting base. When I mentioned my surprise and delight to our waiter, he told us that there was neither cream nor beef broth in the dish. I couldn't believe the depth of flavor she was able to achieve. I let my husband have a taste and, from that one bite alone, he agreed that it was the best dish of the night.
Entrees:
Roasted Salmon. This was one of the two entrée choices for the DineLA menu. Normal, when I try a new restaurant, my dining companions and I usually like to try as many different dishes as possible and share but this evening, we had heard so much about the famous Jar Pot Roast that none of us wanted to give up a bite of it for the opportunity to try a second dish. I'm not sorry though as I now plan to return and try other items on the menu and fully expect great food no matter what is ordered!
Jar Signature Pot Roast with Jar Fries. In a word, delicious! Tender and moist and served with carrots and onions. It was everything a Pot Roast should be and better. It was simple but perfect. We all ate every bite. No one was sorry that we didn't try the salmon and everyone was happy they didn't have to share a single savory bite. 'Nuff said. And the fries—thin cut and crispy and every single one eaten. What more can you say about a dish?
Banana Cream Pie with Caramel Sauce. My two dining companions ordered this. It was delicious! There were slices of bananas that were fresh tasting and perfectly ripe without being overly so. The crust of the pie was thin and flaky and just right. Just a great solid, simple, perfectly made dessert.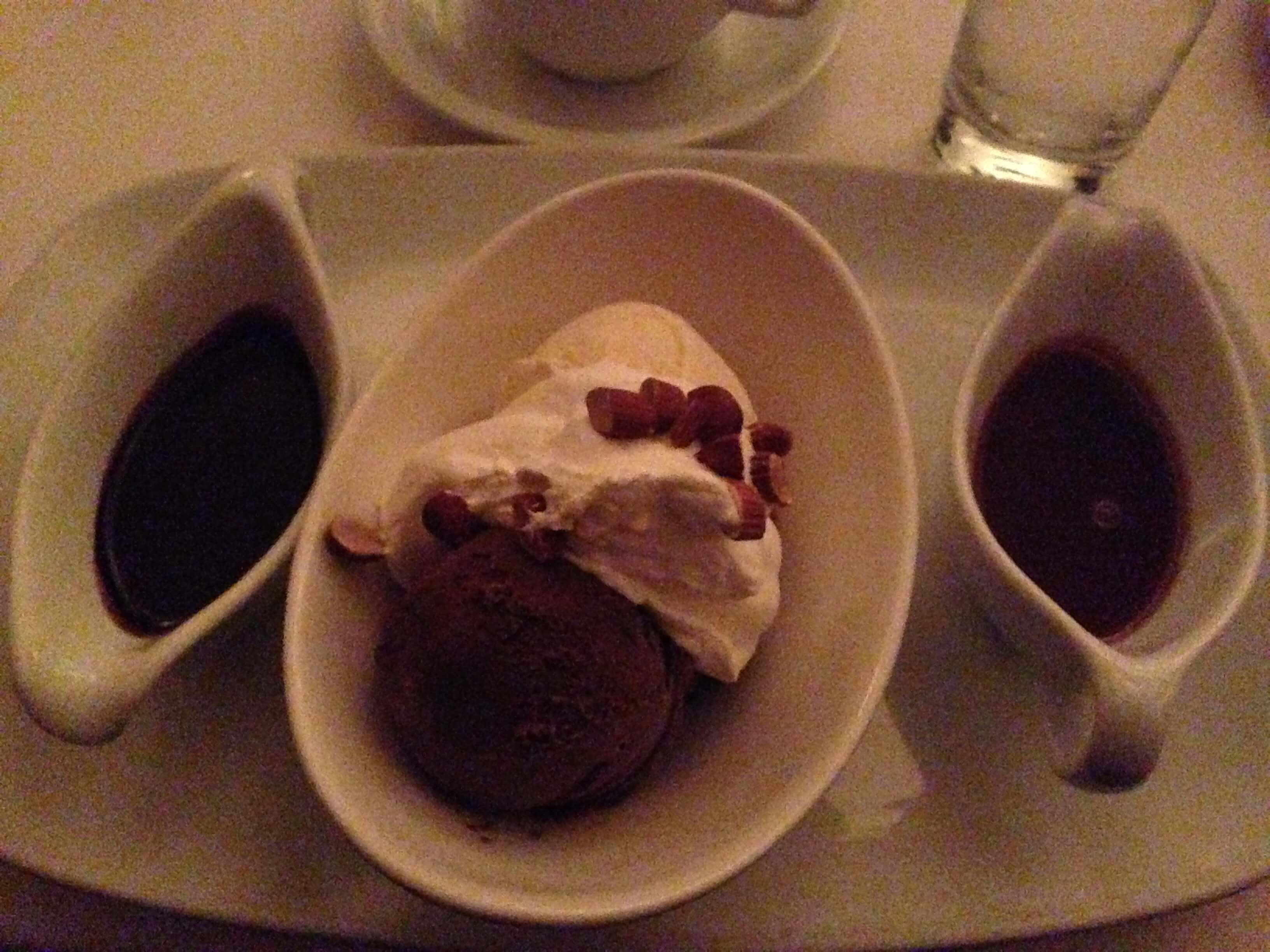 Ice Cream Sundae with Chocolate and Caramel Sauces with Toasted Almonds. I ordered this dish because, although I was tempted to get the banana cream pie, I decided to go the share and taste route for our desserts. Another surprise! My sundae was so great and exceptional that I ended up sharing very little of it (I couldn't stop eating it!). When was the last time something so mundane as an ice cream sundae blew you away? I've become quite an ice cream person lately (I love unusual flavors) and I will say that the ice creams themselves were excellent BUT it was truly the chocolate and caramel sauces that made the dish unforgettable. I don't know what she did or how to truly describe it, but they were just the right sweetness without being too much and with a great deal of depth of flavor. Best chocolate and caramel sauces I've ever had, without a doubt.
Overall:
Well, if it wasn't already abundantly clear, this was one of the best meals I've had in a while (and I am fortunately enough to have excellent meals on a fairly regular basis). It impresses without overpowering and surprises in its simplicity. Understated and nuanced, it makes you appreciate classic dishes without relying on the imbedded goodwill that comes from eating comfort food. You think you are going to be happy and comfortable and the food takes you so far above that, it will give you a newfound appreciation for both comfort food and the skill of Chef Tracht!
Jar.  8225 Beverly Blvd., Los Angeles
(323) 655-6566