I went to Murph's during the January, 2015 DineLA for a fun lunch with some friends—we had met getting involved in our children's middle school music program and hadn't seen each other in while.  It was a warm, sunny day in LA and it was a great place for this gathering.  The staff at Murph's was warm and friendly and you could tell they were making an effort to give a good impression.  Although they'd been open for a few months already, they had just started serving lunch and were using DineLA to kind of kick it off.  The décor was casual and was a take on a vintage service station.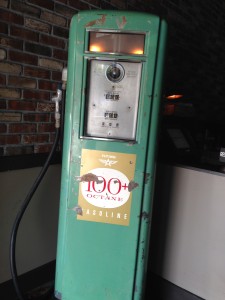 You are greeted at the front door with a cool old gas pump and the area between the main dining room and patio has one of those sliding garage doors that is reminiscent of what one might fine at the repair shop.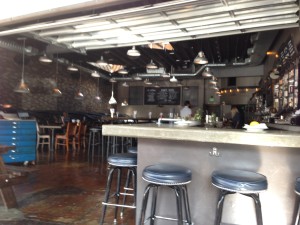 The dining room is has a line of banquettes along one wall and a large, friendly bar opposite.
The DineLA menu, for $15, offered the choice of one of four appetizer, an entrée (again, from four choices), and a cocktail (three options) or beer.  Since there were four of us, we decided to order one of each food choice and share, and one of each drink.
Cocktails:  We each had our own cocktails, and everyone seemed to enjoy their choices.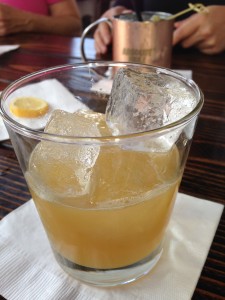 I had the Oil Can (bourbon, ginger, honey, lemon).  I don't drink much and wasn't even going to have any since I woke up that morning with a slight cold—but the Oil Can sounded rather tailor made for a cold, don't you think?  I sipped at it and it was pretty good.  It seemed to help a bit with my cold too (either that, or I just didn't care as much, after a little bourbon!).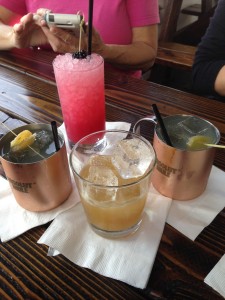 The other cocktails we ordered were the Moscow Mule (vodka, ginger syrup, lime) and the Morning Star (vodka, hibiscus blackberry syrup, lemon).
Appetizers: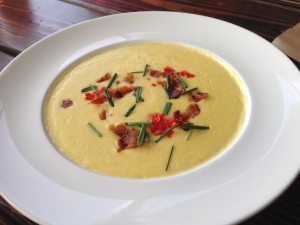 Sweet Corn Soup (Chili vinaigrette, bacon lardons, and scallions).  Although I only had one bite of this (didn't want to share my cold), I really liked it—a lot!  The corn was indeed sweet and well balanced by the bacon.  I secretly wanted to eat the whole bowl myself.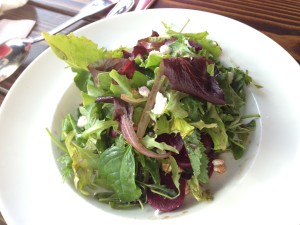 Baby Greens Salad (roasted beets, crumbled goat cheese, balsamic vinaigrette).  A good salad.  The ingredients were fresh and flavors good. There was nothing exceptional about it, though—you got what you expected.  I don't think anyone orders an appetizer called "Baby Greens Salad" expecting anything more than that, though.  This is a dish for when you want to make sure you get your veggies with that high fat, high calorie, artery-clogging entrée you can't resist.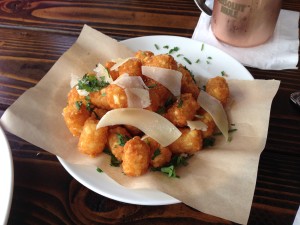 Truffle Parmesan Tots (crispy tater tots tossed with white truffle oil, aged Parmesan, and chives).  Yummy!  Fried potatoes with some cheese and maybe a hint of truffle—can't go wrong with that.  Not sure it was innovative but it is one of those dishes you reward yourself with after having that salad…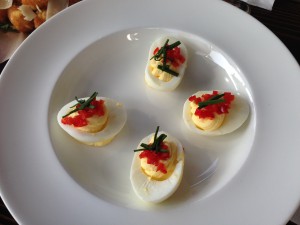 Deviled Eggs (topped with sweet chili jam and salsa verde).  The eggs were good.  It sounded like it would be a better dish (jam, salsa!) that it ended up being.  It was mostly just a good deviled egg—no more, no less.  Order it if you love them, but nothing revelatory here.
Entrees: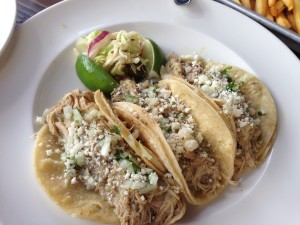 Chicken Tacos (salsa verde braised chicken, corn tortillas, cilantro, cotija cheese and pico de gallo).  I thought these were very good chicken tacos.  I don't know that they were exciting enough for me to make a trip especially but they were good and not too heavy.  I would eat them again.
Grilled Spinach Salad (grilled chicken breast, spinach, dried cranberries, walnuts, bacon, red onion, and bleu cheese). I have to say, I thought the chicken was very well cooked here—not dry as is often the case.  The rest of the salad was good but, again, nothing spectacularly exciting.  As in the case of the Baby Greens Salad, it is probably not the kind of dish you order because you are dying for a GREAT meal, it is the kind of dish you order when you are trying not to feel guilty.  It would probably good with other dressings also if you aren't a bleu cheese lover.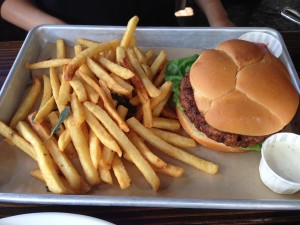 Chickpea Burger (vegetarian chickpea patty, Bibb lettuce, pickled red onions, cucumber, mint yogurt).  First off, let me make it clear that I like meat.  I pretty much don't like when vegetarian items try to copy or emulate meat dishes.  I can't say this sucked but it didn't do anything to change my mind either.  It mostly tasted like a dry hummus patty.  I expect a burger to taste like a burger but if you don't mind your meat tasting not like meat, you might like this.  I'm not sure.  The condiments on it were good though.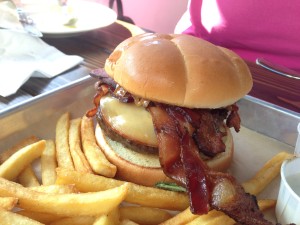 Smokey BBQ Bacon Burger (smoked Gouda cheese, BBQ sauce, bacon, and caramelized onions).  This burger was quite good.  I liked it a lot and would eat it again.  Both burgers were accompanied by some garlic herb fries that were pretty good.  Not as good as the tater tots, though.
Overall Impression:  Murph's is a very good gastropub.  It has a fun and casual ambiance and the bar looked like they do a good job.  Certainly, the ingredients were fresh and of excellent quality for both food and beverage.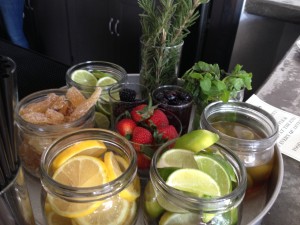 While it didn't satisfy my desire for different and innovative, sometimes you just want reliable and good quality and Murph's certainly delivers on that count.  I would definitely choose it again for a fun group get-together or a good, solid meal.
Murph's , 14649 Ventura Blvd., Sherman Oaks, CA  91403st
818-986-9999
Reservations available on OpenTable