You might remember that a couple of weeks ago, we wrote about a preview for the upcoming Palm Desert Food and Wine Festival (if not, you can read it here).  In case you were feeling intimidating about attending, I wanted to offer you some tips for making it an easier experience. Personally,  I think food festivals are great.  I've been to a few now and I really enjoy them!  If you've never been, they are certainly worth a try, being a great way to sample a lot of food from a lot of chefs and restaurants without necessarily having to commit to a whole meal if you aren't sure about a new place. But, there are definitely some things you can do to make the most of your food and wine experience, which is nice since the tickets aren't always cheap (but keep in mind it probably isn't that much more than you'd spend in a good restaurant with a few drinks thrown in).  So, to help you prepare to have the best experience possible, I'm sharing some of my tips with you (along with some of the food and experiences I've encountered attending various festivals in the past).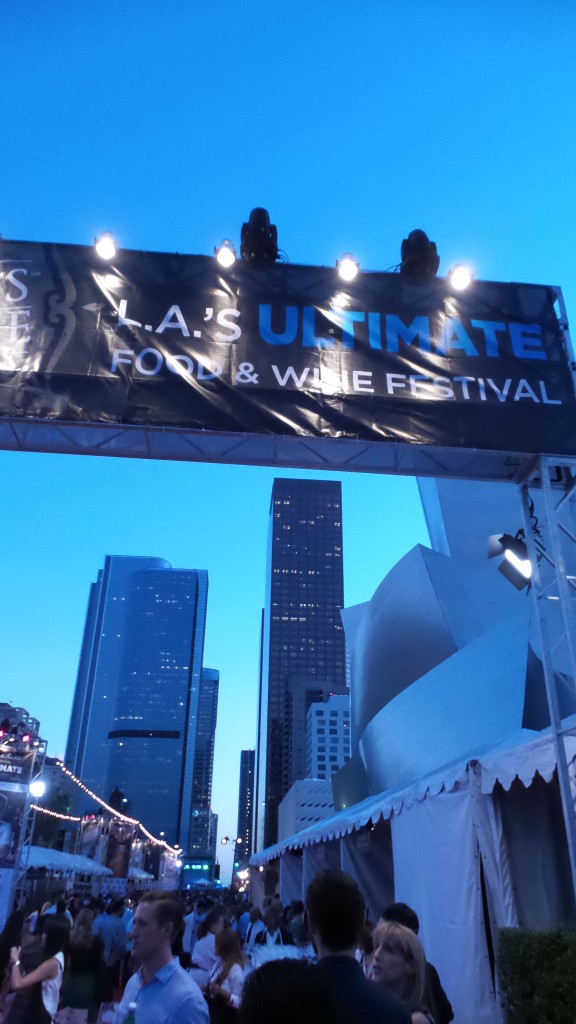 Bring a friend or eating partner!  In addition to the whole "it's nice to have company" thing, it is a really great way to try more food!  I highly recommend splitting portions with someone else!  Sometimes the food samples are pretty big (especially the sandwiches or slider-type items) or filling.  Take 2-3 bites and enjoy it but don't finish it. Ok, so, sometimes you will get a dish that is sooooo good, you'll want to eat the whole thing and that's ok too! But if you are anything like me (i.e. love to eat, but hate to exercise), this is one way to indulge without having to pay too high a price at the gym later.  Plus, added bonus, if you want to maximize your time, you might try to split up the booths and stand in separate lines (if they are on the long-side) so you can get your hands on more food in the same amount of time.  So, remember, friends are good!

Juicy, tender and delicious ribs! (Jar Restaurant, LA)

"Flowerpots" –baccala, dehydrated quinoa, flowers. (Sqirl, Los Angeles)

Arrive early!  If you are hardcore and want to try everything, arriving at the very beginning is a a good idea.  First, the lines are not as long as they might get later so you'll be able to try a lot more food in less time.  This is good since in the beginning, you'll be hungrier anyway.   Second, you are less likely to get shut out with a popular booth running out of food (it can happen as the event gets towards the end).

Lamb Burger Slider (Badmaash, Los Angeles). This restaurant was at a number of festivals I attended and always had the longest lines. They brought a lot of food but even still at the very end, they did run out so you will have to decide sometimes whether you want to stand in the line or risk missing out completely (so go early just in case!).

Wear comfortable shoes!  There is usually at least an occasional line you might have to stand in, and a good amount of walking from booth to booth (this is a good thing as you are burning energy so , YAY!, you get to eat more!).  And finally, there aren't always lots of tables and chairs around so you may be doing a bunch of eating standing up (like at a cocktail party), which can actually be a good thing as you don't want to be slowed down in your quest to eat everything. According to event producer,  Dominic Peterson, ""Comfortable shoes—very necessary! And if I wasn't working the event myself, I'd be wearing sweatpants." Which brings us to #4…

There are usually a number of dessert options as well so if you have a sweet tooth like me, you'll want every excuse for indulging!

Dress Appropriately.  You'll want to be comfortable so don't be shy about wearing those eating pants/dress. Lycra and spandex are your friends! Even though the portions are sample size, there will be lots of different samples and seconds (and thirds) are allowed! You won't go away hungry (and if you do, then you weren't following any of these tips!).  Wear a hat if this is a daytime, outdoor event–your hands will be busy holding food and wine not shielding your eyes from the sun. And you might want to bring a bag or tote to help hold any brochures, business cards, water bottle, or other goodies that you might be picking up along the way.  Having your hands free (to hold a plate and a glass, remember?) are key to not ending up wearing the food rather than eating it!

There will be lots of opportunities to indulge in both food and drinks!

Pace yourself.  If you are one of those who can pull out that "second stomach" in situations like this (my father-in-law was one of those) and eat twice your weight without feeling any ill effects, feel free to ignore this, but if you are like me, you'll want to pace yourself somewhat so you can make the most of your overall experience.  After all, you don't want to fill up and then discover something you won't want to miss but are simply too full to enjoy!  This is where the whole come early and bring a friend really helps too!  Make sure to allow yourself to mix in some libations along with the eats!  A glass of wine or beer (or water) every so often will help you keep going!

English pea soup with snow crab and ikura (N/Naka, LA).

Keep an Open Mind!  This is one of the best opportunities to try new restaurants, new cuisines, or new ingredients!  Be daring!  It's only a few bites and you may discover that you actually love beef heart tartar!

Sweet Shrimp Tartar mixed with truffles and topped with uni (Shunji, LA)

Check out a Cooking Demo.  These are entertaining and also a great break when you are getting full and need a little time for some digestion to occur.  And if you like to cook, you will get great recipes, ideas and cooking tips from all the great chefs these festivals line up.  I recently saw a cooking demo by Food Network star Aarti Sequeira (she's appearing at the Palm Desert event, by the way) where she made a Middle Eastern dish I wasn't familiar with but now totally want to try to make myself (it didn't look that hard AND she gave lots of tips, too).

Chef Aarti Sequeira demonstrates making Arais, a Middle Eastern meat-stuffed bread. Delicious and surprisingly easy to make!

Attend a special chefs' meal or VIP experience.   If you don't mind the splurge, this is one way to really take the experience even further.  Some multi-day festivals have special VIP cooking demos and/or meals cooked by acclaimed and guest chefs. For example, the upcoming Palm Desert Festival features a meal cooked by chefs Cat Cora, Gale Gand, Valerie Gordon and Suzanne Tracht.  How else would you get to try a collaboration like that?    I attended one last summer and it was amazing!  Not only did I get to enjoy one of my personal favorite local chefs (Chef Ray Garcia) at his new restaurant (always a good thing), but I also got a chance to eat wonderful food prepared by acclaimed chef Jenn Louis, from Portland too, something I would have otherwise had to travel about 1,000 miles to do.  At single day events, sometimes the VIP experience involves special booths and chefs not available to the general public.  A couple of years ago, I attended an event where the VIP area featured a dish served with a pile of truffles.  While I would have had a great time without it, it did make it even more special.

Entrance to a VIP area with extra seating and exclusive food tastings

Oeuf Mollet. Charred leeks, wheat berries, mushrooms, and shaved Australian black truffles (Melisse Restaurant, LA). VIP area exclusive tasting .

Albacore. Corn,crema, and popped sorghum. A dish by Jenn Louis (Lincoln Restaurant. Portland, OR)

Mixiote. Rabbit, cactus, tomato, and bacon. Dish by Chef Ray Garcia (Broken Spanish. Los Angeles, CA)

Because the lunch was a relatively small group, I was able to chat with the chefs at the end and grab a photo! With Ray Garcia and Jenn Louis
I hope you find these tips helpful. If you haven't ever been to a food and wine festival before, I highly recommend trying one out.  I used to think that it probably wasn't worth it  and the crowds mean that you won't really get to try anything but have found the opposite to be true!  I always leave stuffed and happy!  The crowds (which can vary) have never been unpleasantly large and it is actually really fun to hang out with a bunch of foodies who, like you, love food enough to spend a few hours doing nothing but exploring some of the best an area has to offer!